MSPA-Asia Pacific News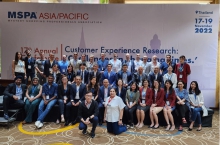 MSPA AP 16th Annual Conference 18-20 November 2020 PHUKET THAILAND, Look forward to seeing you all in Phuket, .
Read more
We welcome the following new members to MSPA Asia Pacific in 2020: 1. BDB India Private Limited, - India 2. Mystery Management Pty Ltd - Australia 3. Ethos Integrated Solutions LLC Dubai Branch- UAE 4. BDA International Limited - China .
Read more