MEMBERS & PROVIDERS
- MSPA CERTIFICATION
The MSPA-Asia Pacific Shopper Certification
The MSPA recognizes that Mystery Shopping is a profession, not just a hobby. As in the case of other professions, we believe that a means of addressing shopper standardization - education and certification is necessary.
In response to this need, we have developed the Online MSPA Asia Pacific Shopper Certification program.
Companies are always looking to hire the best and the brightest, and Certification is one method of setting you apart from the rest.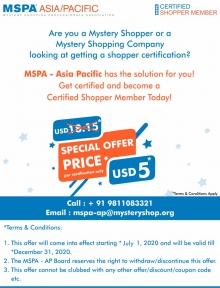 Silver Certification consists of an US$18.15 online test, as a special gesture, the price has been discounted to US$5.00 for 2022. If you pass this test, you will be given a confirmation number AND
receive
a Shopper
Certification
from MSPA-AP.